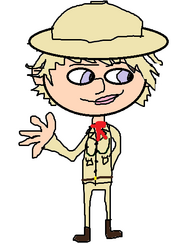 Tammy Monitor is a 27-year old british female explorer who first appears in a video game KND: Undercover 2: The Wally Begins. She has a living father named Brian Monitor and archenemy named Van Smelt. She will be voiced by a Lauren Tom. 
Personality
Edit
Appearance
Edit
She is slender and have very light skin, blonde hair, bangs, lavender eyes and pith helmet, red neckerchief, tan uniform, brown belt and boots.
She is very similar to the Edith from Despicable Me.
Ad blocker interference detected!
Wikia is a free-to-use site that makes money from advertising. We have a modified experience for viewers using ad blockers

Wikia is not accessible if you've made further modifications. Remove the custom ad blocker rule(s) and the page will load as expected.