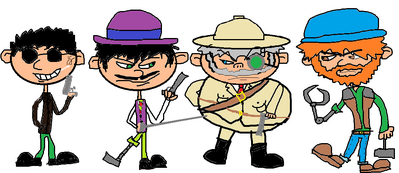 Monster Fighters is the main protagonist from the upcoming movie, Monster Fighters.
Dr. Rodney Rathebone
Edit
He is a tall, slender man has a robotic right leg, large mustache, messy black hair, sideburns, green eyes and wears large purple derby hat, purple vest, green and red necktie, white shirt, green jeans and black shoes. He will be voiced by Tommy Lee Jones.
Jack McHammer
Edit
He is a slender muscular man with red hair, mustache, beard, brown eyes, robotic right arm and wears blue beanie, green sweater, blue jeans, brown shoes and brown and grey jacket. He will be voiced by David Rudman.
Frank Rock
Edit
He is a slim man with spiky black hair, blue eyes and wears sunglasses, brown jacket, old green jeans, black shoes and black shirt underneath. He will be voiced by Bradley Dee Baker.
She is a skinny woman with long red hair, long eyelashes, green eyes and wears white long-sleeved shirt, red sweater on her hips, blue jeans, blue shoes and necklace. She will be voiced by Tara Strong.
Major Quinton Steele
Edit
He is a short, obese man with robotic left eye, messy grey hair, sideburns, large mustache, blue eyes and wears large pith helmet, tan uniform, red necktie, two brown belts and boots. He will be voiced by Tom Kenny.
Their are parody of a Monster Fighters.
Ad blocker interference detected!
Wikia is a free-to-use site that makes money from advertising. We have a modified experience for viewers using ad blockers

Wikia is not accessible if you've made further modifications. Remove the custom ad blocker rule(s) and the page will load as expected.