Mad Rodney is a mad scientist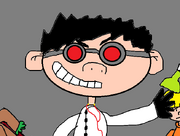 appears in a episode "
It's a Scary Scientist
. He was voiced by a Tom Kenny. He talks to the
Numbuh 4
. He also meets
Numbuh 3
. He made a monster. He says "IT'S ALIVE! IT'S ALIVE!". His monster punched and slapped him with his face. His final words is "Ow! That Hurts! OWWWWWWWWW!" He faints and dies.
Appearance
Edit
He has a short black spiky hair, red eyes and wears goggles with red lens, white lab shirt, black gloves, pants, shoes and large teeth
Ad blocker interference detected!
Wikia is a free-to-use site that makes money from advertising. We have a modified experience for viewers using ad blockers

Wikia is not accessible if you've made further modifications. Remove the custom ad blocker rule(s) and the page will load as expected.