Crazy Hatter is a antagonist from the "The New Adventures of Nigel". Nigel grabbed him and throw Hatter in the mountain before dies. He was voiced by Jason Segel.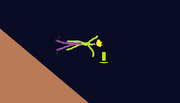 Appearances
Edit
He has a messy blonde hair, blue eyes and wears very large green top hat, shirt, huge red bowtie, blue vest, green coat, converse, orange gloves, purple jeans and pocket watch.
He is parody of a Mad Hatter from Batman comics.
Ad blocker interference detected!
Wikia is a free-to-use site that makes money from advertising. We have a modified experience for viewers using ad blockers

Wikia is not accessible if you've made further modifications. Remove the custom ad blocker rule(s) and the page will load as expected.