"I hate Peter Pan" --Captain Ironhook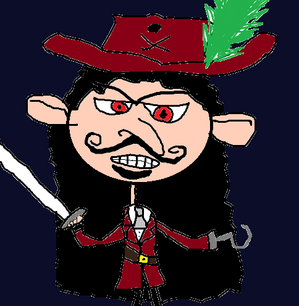 Captain Ironhook is a mean pirate and main antagonist from the upcoming 2013 movie. He hates Peter Pan. Peter Pan did cut off Captain IronHook's left hand, fed to crocodile and new hook replacing left hand. He is afraid of crocodile and crocodile swallow clock that goes "tick tock". He fights Peter Pan and he got eaten by a giant crocodile.
He is parody of Captain Hook from Peter Pan.
Ad blocker interference detected!
Wikia is a free-to-use site that makes money from advertising. We have a modified experience for viewers using ad blockers

Wikia is not accessible if you've made further modifications. Remove the custom ad blocker rule(s) and the page will load as expected.