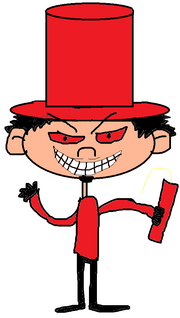 "Ha! Ha! You stay out of this!"
― Baron Hellbender
Baron Hellbender is a evil smirking guy and is the main antagonist in the Kids Racing Game. He was defeat by a Numbuh 4. He will be voiced by Tommy Lee Jones.
Appearances
Edit
He has a messy black hair, small mustache, goatee, red eyes, large teeth and wears large red top hat, red sweater, black pants, shoes and gloves.
He is a parody of Baron Flambo from LEGO Stunt Rally.
His name is "Hellbender", Hellbender is a large salamander.
Ad blocker interference detected!
Wikia is a free-to-use site that makes money from advertising. We have a modified experience for viewers using ad blockers

Wikia is not accessible if you've made further modifications. Remove the custom ad blocker rule(s) and the page will load as expected.